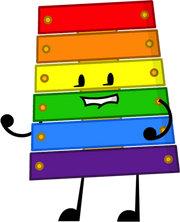 Xylophone is a male candidate for debuting in A Treasured Welcome.  He does not make it in, but he places 2nd with 32 votes.
His only lines are, "Beat that!" (Go, Battle Monster!) and "Seriously, I lost to that thing?!  It's not even an obj-!" (A Treasured Welcome).
Trivia
In BOTO's Night Contest, he debuts with 186 (rumored) votes.
Absolute silence lulls him to sleep at night.
Ad blocker interference detected!
Wikia is a free-to-use site that makes money from advertising. We have a modified experience for viewers using ad blockers

Wikia is not accessible if you've made further modifications. Remove the custom ad blocker rule(s) and the page will load as expected.