Boombox


Gender
Male
Species
Boombox
Team
Team Vanilla
Episode eliminated
Unprepared To Be Scared
Place
12th (95 votes)
Friends
Party Hat, Shieldy, Pizza, Hot Dog, Big Orange Chicken, Slurpy, Radio (possibly)
Rivals
Pear, Scissors, Popsicley, Baguette, Ballooy
Color
Brown
Voiced by
Antony/Anko6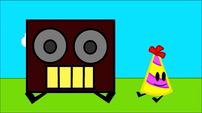 Boombox is a male contestant on Brawl of the Objects.
Personality
Boombox is a big guy with a big heart. The best friend of Party Hat, he's generally nice to everyone, making him an easy guy to be friends with. However, his big size and deep voice make him an off-putting player, but he still tries his hardest.
Coverage
In episode 1, he teamed up with Party Hat, Shieldy, Pizza and Hot Dog.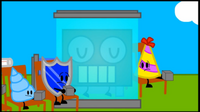 Trivia
He is big like Spongy from BFDI, but he is electronic.
He is the only (original) contestant who has a different assets for his face.

Although, Big Orange Chicken has a much more different assets than the rest of the contestants.
B.O.C has only a body asset.
Ad blocker interference detected!
Wikia is a free-to-use site that makes money from advertising. We have a modified experience for viewers using ad blockers

Wikia is not accessible if you've made further modifications. Remove the custom ad blocker rule(s) and the page will load as expected.